GLITTER-speckled bodies are pulsating under neon lights as hippy types wearing fanny-packs spin around until dizzy. A barefoot guy wearing shiny leggings stomps to Madchester electro jams, whilst three girls dressed in silver space costumes throw jagged shapes in a circle. Over in a darkened corner a line of women attempt to balance on their heads.
I just about managed to scrub off the glitter before a networking brekkie
Looking down from any vantage point, this may seem like your typical hipster-packed electro-bohemian club night (perhaps a throwback to the electro scene of the 90s), but there's a few elements missing here: there's no drink, no drugs and no late nights.
It's a little after 6:30am on Wednesday morning at Gorilla on Whitworth Street West... and the day/rave has just begun.
I'm at Morning Gloryville, a dawn-time disco billed as a 'conscious' rave – a healthy, sober, vegan, feel-the-love affair - which is throwing its second event in Manchester following three years of success in London.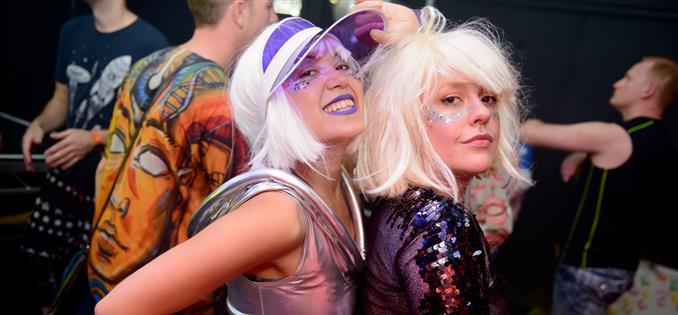 Most of the characters bouncing up and down have only just started their day. Once the party is over, many will whip off their wigs, attempt to scrape off the glitter and go straight to work - suited, booted and energised from four hours of fist-pumping.
And it's not just the twenty-something clean-eating brigade either, there's middle-aged office workers bopping along with toddlers, who skip around their harem pant-wearing mothers. I even spot one infant been rocked to sleep to an erratically paced BPM track.
This is not your usual weekday morning, that's for sure.
Everyone's on a high. An organic, endorphin-pumped high.
"Give me two espressos," orders a spandex wearing dancer with rainbow wings. "I'm completely buzzing," she laughs. We chat for a while, compare our glittery make-up and later become dancing partners on stage.
I make more sparkly, multi-coloured friends as the party raves on. By 8am I feel in no way weird about dancing by myself, casually doing my own thing, spinning around, dusting off the moves from back in the day when I'd come crawling back home from the clubs at a similar hour. How things change.
It's difficult to explain why raving before breakfast feels so good. It's bonkers. The positivity is infectious, and the combination of top tunes and smiling faces is euphoric. There's also free massages and yoga classes, while over at the bar you can pick up a vegan breakfast. I feel as though I could become hooked on this. And I'm not alone. Why else would people in fourteen countries across the globe set their alarms to 5am in order to party before work once a month.
I guess we're all morning people – or maybe a little mad.
Watch the Morning Gloryville Rave at Gorilla Manchester:
"I wasn't a morning person when I started this," laughs organiser Jo, dressed in a silver space suit with a fluffy blue shawl. Fellow organiser Rebecca stands outside the venue blowing gigantic bubbles around. They're both huggers.
"I gave massages at the very first Morning Gloryville in London three years ago, she continues. "I just buzzed off the music and the vibe. I've always been a party person, loved going out, the dancing and the music. But as I got older I wanted to live a healthier lifestyle, and didn't want to feel the effects of heavy partying anymore. Having this alternative just makes it feel more special than regular clubs.
"At those you feel you have to break down your boundaries with a couple drinks before dancing. This is entirely different. In the same way you might go to the gym before work, instead you can come here and have a dance - uplift your body, mind and soul at the same time."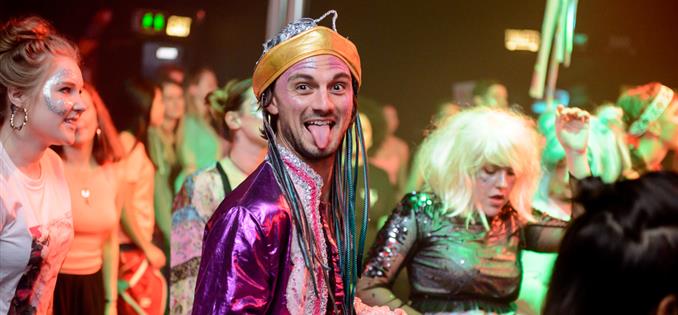 Morning Gloryville is also becoming a major draw for artists. DJs and bands such as Fatboy Slim and Rudimental have hosted morning raves as the events rapidly become a cult hit in major cities. As expected, Manchester is lapping it up, with a regular 'glitterati' forming.
"I wanted to create a community vibe. We're crossing boundaries between club nights and holistic, wellness events. We're right in the middle. It just uplifts everybody," says Jo.
And I have to admit, I'm feeling incredibly uplifted. As I sit writing this, with a face full of glitter and a faded black club stamp on my hand, you could say I look a picture of unprofessionalism, but then I'm in such a great mood I don't really give a monkeys.
Local artist Amy Coney is equally buzzing. "While it's quite surreal it was great dancing sober - I definitely bumped into less people than on a night out and found everyone there so nice to chat to. It was a such a great little hub of positivity. Of course, it did help that we were all covered in glitter, makes everyone instantly approachable. Though I only just managed to scrub off the glitter before an important networking brekkie."
It's an easy review this. You just have to experience it, at least once. Yes you'll be eating glitter for weeks but it's worth it. So put on your wig, slather yourself in neon paint and dance the morning away. Just maybe bring some baby wipes for clocking in time.
Find out more about Morning Gloryville and the next party in Manchester via their website. Meanwhile, here's some more photos (credit: Jack Kirwin)...