SITTING in the hairdressers before an appointment is not dissimilar to sitting outside the head teacher's office in school. You know you're in trouble and you know you haven't been as well behaved as you should have.
"You want someone who would walk into a room and notice if a picture is slightly off. It's that level of OCD you want in a good hairdresser."

Straightening. Colouring haphazardly at home. Backcombing. Hair extensions. Bleaching. Undercuts. You name it and I will at some point have done it. My tresses are a sorry state and if there's one person I know I can't hide my follicular sins from it's a hairdresser.
If you're going to apologetically confess your sins to a hairdresser, why not confess them to the best?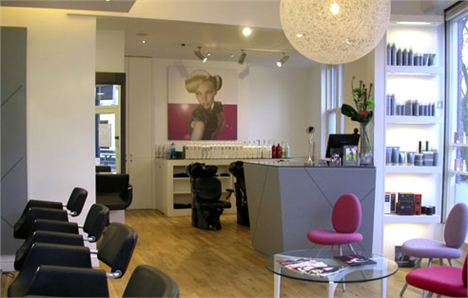 Ethos salon in Chorlton
And by the best I mean someone with a mantlepiece now creaking under the weight of awards and accolades, with years of industry experience and celebrity clientele with swishing hair that makes you look at your own split and tired locks in contempt.
Sharon Peake of Ethos Hairdressing, based on the NQ's Oldham Street and Chorlton's Beech Road, is that hairdresser. A matriarch in the hairdressing industry she, alongside her business partner Adam Bryant, has built up a strong name for themselves.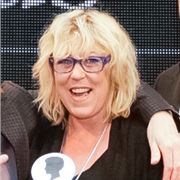 Sharon PeakeForever finalists in the British Hairdressing Awards, the hairdressing equivalent of the Oscars, last year saw them take the crown for 'Schwarzkopf Professional British Colour Technician' beating fierce competition from around the UK. Plus as the only Manchester finalists it's another point for us 'up North' over 'that there London'. MCR 1, LDN 0. 
So what does Peake think makes a good hairdresser good?
"You want someone who would walk into a room and notice if a picture is slightly off. It's that level of OCD you want in a good hairdresser."
If ever OCD were a job requirement then hairdressing is it. I'm sure I'm not the only girl who's been tearful when asking for a trim and seeing five inches of hair pool at my feet. Don't even get me started on wonky fringes.
So attention to detail is the key in hairdressing, which is a given otherwise we'd all be at it with the kitchen scissors.
Peake has become an expert at wielding her scissors and creating skilful haircuts, which has seen her awarded North West Hairdresser Of The Year in 2008, 2009 and 2010. After her three consecutive wins she has been accepted as part of the British Hairdressing Awards Hall of Fame and now judges awards and teaches budding hair stylists.
And will fellow hairdresser Adam Bryant ascend to Hall of Fame status? "It's only a matter of time," smiles Peake.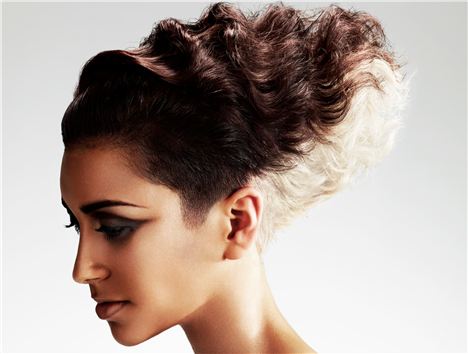 Some of Peake's winning work
Winning at the recent British Hairdressing Awards was her (and Bryant's) first national win. Their winning collection 'Pulse' inspired by technology and soundwaves was a bit different but still won them points with the judges. "Our entry was a bit different, which can work for or against you," says Peake. "You just have to do what you feel. It's all about showing off and showing what you can do."
With fierce competition from all over the country, "Britain is the best for hairdressing" says Peake proudly, the duo had their work cut out to win. I couldn't help but ask who Peake sees as her competition in the industry?
"Andrew Collinge was always a great contender, although I'm not sure if they entered this year. Obviously if you don't win you want one of your friends to win. You always feel like you have someone snapping at your heels."
It's competitive stuff this scissor wielding business.
And what does Peake think will be big for hair in 2014?
"We're seeing loads of pastels and also what hairdressers call a 'clean cream' where it's not ashy or grey or yellow but a pure cream blonde. Golds are also key but you have to be careful as they can pick up a pink skin tone and make it look brash.
"Cooler reds are also big, think Florence and the Machine. Not too violet but a good balance of red and purple."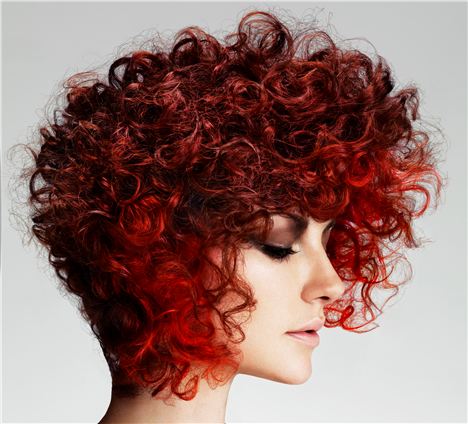 Peake's Pulse collection shows redheads will have their moment this year
"The one thing we have in all our salons is that every stylist can cut and colour. It's something I really insisted on. I had these great stylists and I knew they could colour well too, it's just nicer for the client especially as the stylist has your cut in mind."
So what's next for Peake?
"I'm off to Reykjavik," smiles Peake. All in a day's work it seems for this hairdresser.
Ethos Hairdressing can be found at:
97 Oldham Street, Manchester, M4 1LW (0161 835 1111)
or 141 Beech Road, Chorlton, M21 9EQ (0161 860 0333)
Or find them on Twitter: @EthosManchester
Follow Niamh Spence on Twitter.